Products
Cutting machines require a host of associated equipment and services to ensure the equipment delivers the value you require for your operations. Our trained and qualified staff provide the recommendations and deliver the service to ensure you have answers for each piece of the system, and you realize the return on your investment with us. From the ground up, ALLtra technology and service ensures your success.
ALLtra manufactures its cutting systems by machining and fabricating the machine and tables in-house, and where possible, on ALLtra machines. This is a step above other suppliers that simply purchase components and integrate them.
The Product Philosophy of Other Suppliers
Other cutting machine suppliers sell machines as pieces - simply buying whatever technology is available and bolting it all together in their shop. Their technology offering is limited to whatever is available to buy and they often do not have the ability to look at an application and design a machine that provides a comprehensive solution to your cutting needs. Often, their service is limited to simply providing their customers a conduit to the technology supplier.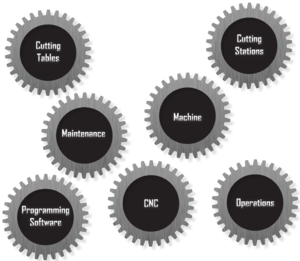 ALLtra's Product Philosophy
ALLtra provides the comprehensive solution in both manufacturing and implementation, with each product featuring ALLtra's Intelligent Design to create a fully-integrated solution for your needs. This means:
ALLtra software engineers improve process, improve the user interface, and provide comprehensive diagnostics.
ALLtra design engineers create simple answers to complex cutting applications, delivering the industry's best positional accuracy, and minimize customer support requirements.
ALLtra service engineers support our machines, cutting tables, programming software, machine operators and maintenance staff.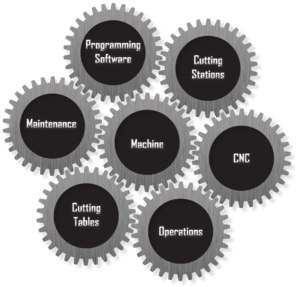 Explore Our Products
Contact Us Today
Call us at 918-534-5100 or contact us to set an appointment with a representative of the sales department, and experience the ALLtra difference.