Cutting Stations
Utilizing world-leading plasma and oxyfuel systems with seamless integration to ALLtra machine and process control delivers high-quality results with minimal maintenance from the most robust and reliable systems in the marketplace.
ALLtra's hassle-free support and service and reputation for dependability provide you with the security of knowing you can count on our cutting systems for quality and reliability everytime.
Plasma Stations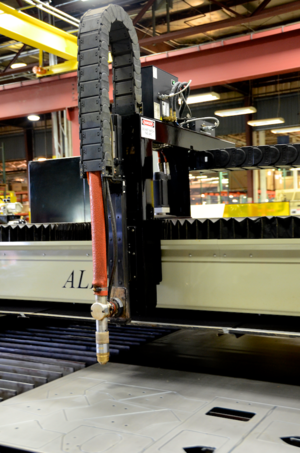 Hypertherm Plasma Systems (*Including TrueHole)
Hypertherm HPR-130XD
Hypertherm HPR-260XD®
Hypertherm HPR-400XD®
Hypertherm HPR-800XD®
Hypertherm PowerMax Series®
Key Features of Plasma Stations
High Speed Positioning
Automatic Height Control & Crash Protection
Servo Control & Encoder Positioning
Plasma Stations for Beveling are Available
Oxyfuel Stations
Oxyfuel cutting is a breeze with ALLtra Intelligent Design and automatic gas control offered on the PG Series Cutting Machines. Offering many different oxyfuel torches, ALLtra oxyfuel stations provide consistent results from single or multiple station machines.
Key Features of Oxyfuel Stations
High Speed Torch Positioning
Digital Control of Preheats and Cut Oxygen
Automatic Height Control Options
Oxyfuel Stations for Beveling are Available